What is Thematic Investing?
Thematic investing seeks to identify structural trends which are able to generate long-term growth, in order to provide robust and resilient investment solutions irrespective of economic conditions and events.
In a context of market turmoil, thematic investing stands out as an alternative to cyclical hazards. The Equity market has been polarizing between passive strategies (index funds and ETFs) and higher conviction active strategies. Deviating from a constraining reference index, thematic funds are gaining ground as core holdings within a portfolio by bringing extra alpha.
Why Thematic Investing?
Structural Alpha
Achieved through identifying structural trends which offer higher sustainable growth profile.
Unique Diversification
Small overlap with Global Equity indices allows diversified exposure to the most promising components of the equity market.
Robust & Resilient Solutions
Themes and long-term growth drivers behind performance are irrespective of economic conditions and events, and bring sense and meaning to investments.
We are committed, while designing our thematic strategies, to avoid passing fads.
Vafa Ahmadi, Head of Thematic Equities, CPR AM
About CPR AM
CPR Asset Management is an innovative boutique and thematic centre of expertise for the Amundi Group

Innovation lies at the heart of CPR AM's approach.

Created in 1989, CPR AM leverages its wide range of investment capabilities (quantitative and thematic equities, asset allocation, fixed income and credit) to offer nimble, performance-driven and scalable investment solutions. CPR AM's teams have an average of 15 years' investment experience with proven investment capabilities. They implement disciplined and efficient investment processes that take into account risk considerations on a permanent and integrated basis.

By end October 2021, CPR AM had more than €66bn assets under management.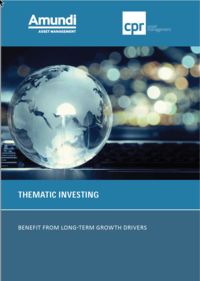 Our Approach
Our unique and innovative approach consists of favouring themes where the fundamentals are not only about one sector. A broad definition of the investment universe is good for diversification and lowers sector risk. Fueled by our managers' convictions, portfolio construction is able to adapt to economic cycles and market regimes.