Responsible investment offering
Responsible investment offering
Amundi offers to all client segments a wide range of open-ended funds and tailor-made Responsible Investment solutions that incorporate ESG factors into investment decisions.
Responsible offering and capabilities
| | |
| --- | --- |
| Responsible Investment Solution | ESG Improvers brochures |
Responsible offering and capabilities
Amundi Responsible Investment offering alonside the value chain.
Advisory : Guiding investors in navigating ESG
Whether it be to generate a positive impact, to align your portfolio with ESG or climate target objectives, or anticipate material ESG-related risks, our team of ESG experts is committed to supporting investors in meeting their ESG objectives while respecting their specific constraints.
ESG Investment Solutions
Amundi investment teams have developed specific expertises to assist our clients in achieving their specific ESG investment objectives by offering a wide range of ESG investment solutions span across asset classes and regions, from broad ESG Integration to specific themes.
Long-Standing player in ESG integration
Amundi, a pioneer in Responsible Investment (RI), has continuously strengthened its ambition to integrate Environmental, Social and Governance (ESG) criteria through its investment strategies and to reinforce its engagement process to support issuers in making progress.
Since the announcement of its ambitious action plan in 2018, Amundi has established an unprecedented level of ESG integration throughout the organisation. To this end, Amundi has committed to integrating ESG criteria across the entire portfolio management value chain, notably through:
The systematic integration of ESG criteria within the active investment & portfolio construction process.
The strengthening of dialogue with corporates on ESG topics through a pro-active engagement policy.
A voting policy emphasizing Environmental and Social dimensions as top priorities.
ESG certified and labelled funds
There is no one-size-fits-all approach to responsible investing and as a solutions provider, we are committed to developing simple and ready to-use tools to help investors easily implement their ESG strategy depending on their objectives, constraints and the level of ESG focus they wish to implement in their portfolios.
In addition, the expertise of our index team and our proprietary index management tools allow us to develop fully bespoke solutions for our clients aimed at deploying their individual ESG policies.
An expanded range to address investor's various sustainability objectives
Services
To complete our large range of advisory services and investment solutions, we provide our clients with ESG services that can reinforce their commitment to a more sustainable future. To do so, we offer three types of services:
Engagement and voting: At Amundi, we have defined an engagement and voting policy that we apply to our assets under management. We believe our role is to engage with issuers to allow for constant improvement and awareness of ESG-related topics through dialogue or voting at general assemblies.
Reporting: As clients need to monitor their financial and ESG guidelines and report the results of their investments, we offer different types of reporting according to the client's underlying strategy and ESG policy.
ESG Training & Knowledge Transfer: ESG investing is evolving at a fast pace and Amundi is committed to disseminating best practices, research and thought-leadership through content sharing, high level conferences and training programs.
Standard ESG services are included with Responsible Investment portfolio management when relevant.
| | | |
| --- | --- | --- |
| Engagement & Voting | Reporting tailored to client's ESG objectives | ESG Training and Knowledge Transfer |
ESG risk management
Building on the quality and depth of Amundi's ESG database, CPR AM, Amundi's subsidiary dedicated to multifactor and thematic investments, developed innovative solutions implementing a complementary risk-based ESG approach. These solutions seek to enhance value creation potential through the selection of appropriate criteria combinations.
1) Multi-sector approach
This solution based on financial materiality relies both on the ESG rating and a selection of financially relevant E, S & G criteria ("weak signals") in order to define an ESG investment universe allowing for the implementation of an additional financial alpha.

2) ESG Thematic
Those solutions range rely on strong equity thematic investment opportunities backed by megatrends with a demanding sustainable approach. Such approach relies both on a selection of E, S & G criteria adapted to the material challenges of the theme, along with a strict monitoring of controversies and impact.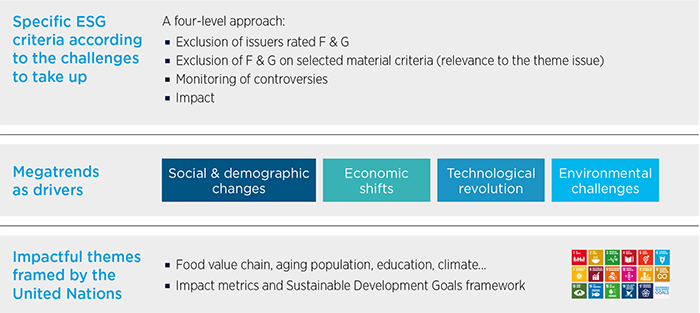 Responsible investing passive solutions
Amundi rated A+ in 2020 for the sixth consecutive year for its responsible investment approach*

Environmental Finance Green Bond fund of the Year in 2020, GRECO**

Environmental Finance Personality of the Year 2021, Isabelle Vic-Philippe

Personality of the Year in 2021, Isabelle Vic-Philippe

Best ESG Investment Fund - Emerging Markets Debt in 2021 for AF emerging Market Green Bonds

Best ESG Investment Fund - Climate / Green Bonds in 2021, for AIIB Climate Bond Portfolio

Best ESG ETF Provider in 2021

Fixed Income Manager of the Year in 2021

Best ESG Strategy Adviser in 2021
This report is prepared by Amundi Singapore Limited (Company Registration No. 198900774E). While reasonable care has been taken to ensure that the information contained herein is not untrue or misleading at the time of publication, Amundi Singapore Limited makes no representation as to its accuracy or completeness. Opinions expressed in this report are subject to change without notice, and no part of this report is to be construed as an offer, or solicitation of an offer to buy or sell any securities or financial instruments whether referred therein or otherwise. We do not accept liability whatsoever whether direct or indirect that may arise from the use of information contained in this report. Amundi Singapore Limited, its associates, directors, connected parties and/or employees may from time to time have interests and or underwriting commitments in the securities mentioned in this report. Past performance is not necessarily indicative of the future results. All investments carry certain elements of risk and accordingly the amount received from such investments may be less than the original invested amount. This document is not intended for citizens or residents of the United States of America or to any «U.S. Person», as this term is defined in SEC Regulation S under the U.S. Securities Act of 1933. The information contained in this document is deemed accurate as at 25 January 2019. This advertisement report has not been reviewed by the Monetary Authority of Singapore. All trademarks and logos used for illustrative purposes are the property of their respective owners.